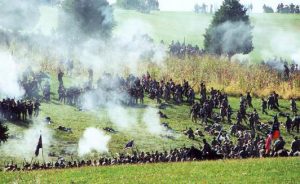 On this day 152 years ago our ancestors took part on both sides of the Battle of Perryville in Kentucky in the American Civil War. Over twenty percent of those engaged in the battle were either killed, wounded, or went missing, making it one of the bloodiest battles of the Civil War.
On the Union side was James H. Claybourn, William P. Claybourn, Joe Boggs, and Jasper B. Scott, each with Company H of the 80th Illinois Volunteer Infantry Regiment.
Fighting with Confederates against them was Pleasant T. Claiborne. Although Pleasant and his father John opposed secession, Pleasant had been conscripted into Confederate service against his will. In fact, Union soldier Jasper Scott was Pleasant's brother-in-law, married to his sister Millie Claiborne. Not long after the battle Pleasant was captured and taken prisoner. Given the deplorable conditions for prisoners on both sides, those captured often died of disease, malnutrition, and abuse. Such was the case for Pleasant who died on January 9, 1863. He is buried at the Soldiers' Rest C.S.A. Cemetery in Vicksburg, Mississippi.
One great irony is that had any of Pleasant's Confederate compatriots succeeded in killing James, the family's genealogical information might never have been compiled. Thus, Pleasant would have survived the battle, but most historical evidence of his very existence would have died.
The Union victory at Perryville marked a turning point in the War. Confederate forces retreated into Tennessee, and Kentucky remained in Union possession for the remainder of the War. Just as important, the victory stalled Europeans from recognizing the Confederacy and rejuvenated Northerners enough to continue supporting the War in the 1862 elections.