In 2007 James and Dorothy Stitt, both born in 1914, were in the twilight of their lives. They lived in Easton, Pennsylvania, but with their health failing, the pair moved out of their house and into a nursing home.
Unfortunately during the move much of James and Dorothy's belongings were organized and sold by strangers at an auction. Unsold items were simply discarded as trash. These items, some well over a hundred years old, were literally placed in the trash bins.
As the saying goes, one man's trash is another man's treasure, and an antique dealer in Easton catered to this reality. The dealer called Barbara Wentz, a genealogist who haunts flea markets. In her spare time Barbara looks for items to sell on eBay or return/sell to family descendants if she can find them. Although she lived an hour away from the dealer, she had a reputation for taking an interest in just the sort or artifacts the dealer had uncovered.
Barbara suspected the discarded items might have some value to distant relatives somewhere, so she purchased a Bible for $20 and a photo album for $100.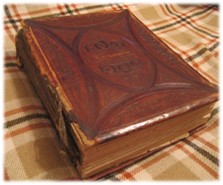 The Bible was a large leather Bible printed in 1872 with the name W.D. Claybourn engraved on one side and E.J. Claybourn on the other. This Bible had belonged to none other than William Divine Claybourn and his wife Elizabeth ("Lizzie"). William, born in 1819, is the patriarch to all Americans who spell their name "Claybourn".
As it turns out, the woman who had moved out and put these items up for sale – Dorothy Jewett Stitt – was the daughter of Gladys Norfleet, who in turn was one of 11 children of Lucy Belle Claybourn (1867 – 1949). Lucy Belle Claybourn was the 16th child to William Divine Claybourn (1819 – 1896). Through this lineage the Bible had been handed down from generation to generation.
Inside this "Claybourn Bible" were pages detailing various family records such as the births, deaths and marriages of William and Lizzie's family, including Lizzie's children from her first marriage. These separate family record pages appear to have been older than the Bible itself, and may have been transferred from an even older Bible. Either way, they have provided a valuable opportunity to confirm the dates of certain births, deaths and marriages in their biographies.
Lizzie also wrote inside the covers of this leather Bible and on some of the Bible pages. Some of the notes were rather sad things, including one about being lonely and another about how much she misses Bill (presumably this was a reference to William after he had died).
The other item Barbara purchased was a Photograph Album of the family of Lucy Belle Claybourn and her husband Edgar Norfleet. Included in this was a tin photo of William D. Claybourn, featured to the left.
Armed with this treasure Barbara went in search of the family's descendants, and thanks to the Claybourn Genealogical Society's extensive website, she quickly got in touch with its founder Joshua A. Claybourn. CGS now preserves the artifacts for posterity.
"I have always haunted flea markets being a lover of old stuff," said Barbara. "Since I don't work, about five years ago I decided to try selling on ebay – concentrating on local history books I could find 'cheap'. It was just enough of an income to pay for all of my subscriptions [to research websites]. Then I started branching out a bit – finding a photo with a name for a dollar or so and trying to discover who they were. It is really a hobby that I just love to do – it is relaxing and challenging. There is nothing more exciting for me than to be able to get an item back to a family."
The Claybourn Genealogical Society would like to thank Barbara for being "a lover of old stuff" and helping preserve an important piece of our family's history.