Our understanding of our lineage has evolved over time. Previously, our earliest known ancestor was Joshua, who lived approximately from 1758 to 1799. However, recent advancements in DNA research conducted in conjunction with The National Society of the Claiborne Family Descendants and Family Tree DNA have allowed us to trace our roots back even further.
Westmorland Roots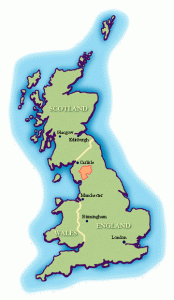 Our family tree has its roots in the historic Westmorland County in northern England, now part of Cumbria. This Westmorland group, an "ancient and knightly family," derived its name from the manor of "Cliburn."1Howell Purdue and Elizabeth Purdue, Pat Cleburne Confederate General (Hillsboro, Texas: Hill Jr. College Press, 1973), 1. The family held the manor for nearly four centuries, from the early 1200s to the mid-1600s. Today, Cliburn Hall stands near the small village of Cliburn, six miles southeast of Penrith, in what was once Westmorland County. It overlooks the rivulet Leith from its elevated position.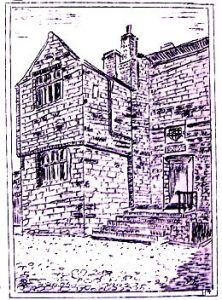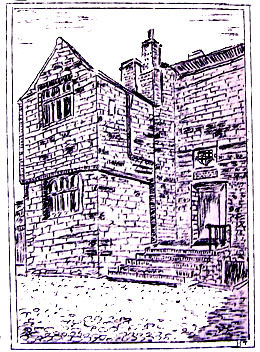 The grand stone structure, complete with a three-story "pele tower," was erected in the 1300s by Robert de Cliburn, a knight of the shire for Westmorland. Two centuries later, Richard Cleburne expanded and modified the original structure. The Tudor estate boasted a large deer park, beautiful pleasure grounds, and terraced walks. Across the road from Cliburn Hall stands the Parish Church of Cliburn, a Norman structure built in the 1100s.
The Cliburn family's founder, Hervey de Cliburn (Cliburn translates to "stream by the bank"), and his descendants held the manor by "knight service." Around the early-1600s, close to the English reconquest of Ireland, William Cleburne, the second son of Thomas, the fourteenth Lord of the manor of Cliburne, relocated to Moate, Westmeath, Ireland. His son John of Moate Castle was born in Ireland in 1623. Although other family members had already moved there, it was William who acquired castles, towns, and lands. As a result, the Cliburnes (and variations of the name) resided in both Westmorland and Ireland for some time.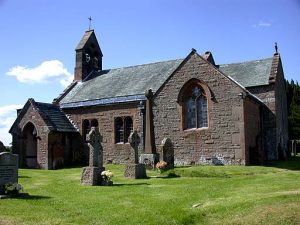 DNA studies confirm that our family originated from the Westmorland region. However, the path that led members of this family to southeast England, specifically to Monken Hadley, remains somewhat unclear.
Researchers from The National Society of the Claiborne Family Descendants propose a theory involving Sir John Cliburne (1439-1489), the son of Roland de Cliburn and Katherine de Lancaster. Monken Hadley is near Barnet, the site of a significant battle during the War of the Roses on 14 April 1471. Historical records and rolls of arms confirm Sir John Cliburne's presence at the Battle of Barnet. The King's army camped there for several weeks. Nine months later, in January 1472, Oliver, our earliest known ancestor, is estimated to have been born.
English Ancestors
Oliver Clyborn, born around 1472 in Monken Hadley, died before 1532. Several court documents firmly place Oliver in Monken Hadley and establish him as Thomas's father.
Thomas Clybborne, born around 1505 to Oliver Clyborn and Isabel in Monken Hadley, married Joan around 1526. They had at least two sons. Thomas was laid to rest on 10 October 1558 in South Mimms.
William Clybborne was born in 1527 to Thomas Clybborne and Joane in Monken Hadley, a quaint town situated four miles southeast of South Mimms. In 1550, he married Ellen in South Mimms, and they had one daughter and four sons. William passed away and was interred on 13 January 1584 in St. Giles, South Mimms.
James Cleburne, the youngest child of William Clybborne and Ellen, was born in May 1565 in South Mimms, Hertfordshire. He was baptized on 10 May 1565 in South Mimms, a town approximately ten miles west of Waltham Cross. This location holds significance in our family history, as the Isom family, also Cleburne descendants, resided in South Mimms.
James worked as a bargeman, ferrying cargo along the River Lea. This river stretches about 25 miles from the River Thames in London, north to the town of Ware, before veering west and ending in the town of Hertford.
Around 1585, James Cleborn began a relationship with Apollonya Isham, and they cohabited. This is where the Isom connection comes into play. By 1590, their relationship had ended, and James married Agnes Jurye in Waltham Abbey. The circumstances remain unclear, but based on Joshua Isom's research, it seems Apollonya's family may have disapproved of the relationship and selected a different suitor for her, Robert Lee, whom she married in 1587. It's believed that the son of James and Apollonya was sent to live with other family members.
The Isham family, who owned prominent businesses in London and the manor of Dancers Hill, located on the southern end of South Mimms, likely provided Apollonya's residence when she met James.
In 1625, both James and Agnes Jurye passed away. Interestingly, this year also marked a Y-pestis plague outbreak that claimed the lives of 40,000 Londoners. At the time of their deaths, James would have been around 60 years old, and Agnes about 55. Upon James's death in 1625, his eldest son, James (born in 1598), was appointed executor of the estate and given guardianship of Edward (aged 9) until he reached adulthood.

Edward Cleiborne, born in 1614, was the son of James Cleborn and Agnes Jurye. His baptism took place on 22 May 1614 in Waltham Abbey. Church records in Essex, England, spell the surname as Cleyborne; licenses to pass the seas use Cleiborne; and Barbados church records use Cleaborne.
James, Edward's father, passed away in Waltham Cross, Hertfordshire, England, on an unspecified date in 1625. At the time, Edward was 11 years old and his brother, Thomas, was 19. Both were named as executors of their father's will. However, the probate clerk leaned on Thomas to execute the will, citing Edward's minority. The will allocated 20 shillings each to the older siblings – Elizabeth (30 and married), James (27), William (24), and Rychard (21). It did not explicitly provide for Edward and Thomas, but as executors, they might have had some discretion to distribute any remaining property after the older siblings received their 80 shillings.
Edward, the youngest in the family, was born when his father was 50 and his mother was 44. By modern standards, his parents were old, but for that era, they were particularly so. Agnes had already passed away by the time James died in 1625.
Following the death of both parents, Edward likely moved in with his brother James. He also remained close with his older half-brother, William Isome, who resided just a mile away in nearby Cheshunt.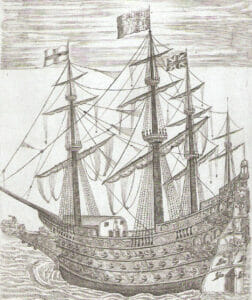 A decade after James' death, on an unspecified date in 1635, 21-year-old Edward Cleborne and his 14-year-old nephew, Robert Isome, sailed on the Globe to Henrico, Virginia, in search of new opportunities. The shipmaster, Jeremy Blackman, was a friend and business partner of Edward's. Also aboard the Globe was John Goodbarne, a devout Christian minister who passed away during the voyage to Virginia, leaving behind a library of Gospel texts.
In 1636, Edward's sponsor in Virginia, William Julian, received a "headright" land grant in Bermuda Hundred in return for providing Edward with employment and accommodation.
Fourteen years later, on 18 June 1650, another land grant was recorded for Edward's Virginia sponsor. This grant was made to ship captain William Shipp, who used Edward's headrights to purchase land. Around 1649, Edward may have returned to England to marry a woman named Mary before returning to Virginia. They had at least two sons, including a son named John, born around 1650. John would go on to marry Mary Sheppey in 1680.
Edward dove into the flourishing sugar industry of Barbados. His friend and business partner, Jeremy Blackman, maintained familial ties to the island as the brother-in-law of Jan and Michael Lucie, Dutch siblings who were plantation owners in Barbados. Church archives reveal that both Edward and his spouse took their final breaths there in 1662.
Edward died in September 1662, at the age of 48, and was buried on 15 September 1662 in St. Michael, Barbados.
Edward is an ancestor of the modern Claybourn family and a great-grandfather of John Cleburne of "Dale Parish", who has a large posterity in Virginia and across North America.
Edward's nephew, Robert Isome, also returned to England, possibly on a voyage that Edward made. Unlike his Uncle Edward, Robert chose to remain in England. He married Jane Clubber in Green's Norton, Northamptonshire, in 1643 and raised a family there. Y-DNA tests today reveal a close relation between paternal line descendants of Edward Cleborne and those of Robert Isome.
From this point, there is a gap in the lineage that necessitates further research. However, our next known ancestor is Joshua Clyburn.
Footnotes
1

Howell Purdue and Elizabeth Purdue, Pat Cleburne Confederate General (Hillsboro, Texas: Hill Jr. College Press, 1973), 1.