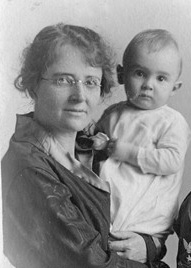 Mourten Franklin Claybourn(e) was born on 15 August 1881, in Glenville, Minnesota. He occasionally spelled his name "Morton", but he was generally known simply as "Mort".
Mort married Nellie B. Hill (born 27 December 1884). Nellie's lineage has its own notable history. Nellie's mother, Ella, grew up on a large plantation with its typical palatial home owned by Nellie's grandfather (on her mother's side), Philip Echols. He was a broker and plantation owner.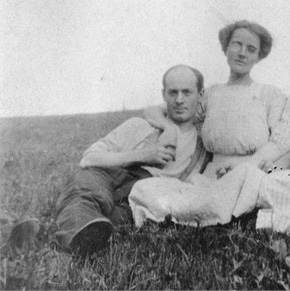 The Echols' plantation was in the center of much of the upheaval of the Civil War as it lay in the direct path of Sherman's march to the sea and suffered the fate of the depredations of war. The home was taken by the Union and was converted into a hospital where Ella's mother (Nellie's grandmother), with the help of negro slaves, cared for the wounded Union soldiers.
After the devastation of his holdings, Philip moved to Columbus, Nebraska, to start life anew. Once the family moved to Nebraska Ella met Charles L. Hill, who was engaged in educational work and bookbinding. They married and would go on to have eight children, including Nellie.
Mort and Nellie began spelling the name "Claybourne" due to a family feud in which Nellie thought a brother-in-law had wronged her; thereafter the family was split. Mort died on 14 December 1959 and Nellie followed roughly nine years later on 17 December 1968. They had seven children, all listed below.
Descendants
Charles Franklin Claybourne ("Frank") was born 7 July 1916, in Albert Lea, Minnesota. He learned his life's values growing up in Albert Lea where he was an Eagle Scout, delivered newspapers, and graduated from Albert Lea High School in 1932. Frank received a B.B.A. degree in 1937 and an L.L.B. degree in 1943, both from the University of Minnesota. He served as note editor of the Minnesota Law Review in 1943. He married Ingrid Larsen, who was born on 17 January 1918 in Hawaii.They had three children, while Frank returned to attend the University of Minnesota Law School and then to practice law as a litigation attorney with Doherty, Rumble, and Butler in St. Paul. Later they moved later to Wyoming, Minnesota. Frank served as president of the Ramsey County Bar Association in 1972 and president of the Minnesota Bar Association from 1979 to 1980. The Minnesota Supreme Court frequently appointed him to serve in posts including the Committee on Criminal Procedure, which he chaired for more than a decade.Both Ingrid and Frank were active in civic and community affairs. Frank served as general counsel to the Republican Party of Minnesota from 1950 to 1974 and counsel to many Republican campaigns, including those of presidential candidate Harold Stassen and senatorial candidate Rudy Boschwitz.Ingrid studied painting. Their niece Beverly Nell wrote of Ingrid, "She always had a smile and a soft twitter of laughter ready. Her long black hair which seemed so exotic for a woman of her generation from Minnesota, must have come about on account of her being born in Hawaii." Ingrid died on 2 September 2007. Frank died peacefully at home on 28 July 2011, at the age of 95. They had three children:

Stephen Claybourne ("Steve") was born on 14 June 1943 in Minneapolis, Minnesota. For several years he created pottery professionally. After years of pottery, he started water color painting in 2000. Steve's website is available here. Steve married (1st) to Dorothy E. Davidson and they had one daughter, Jennifer, listed below. Steve married (2nd) to Sue Marie Kessel.[

Sue Kessel was born on 4 January 1955.

] They had two children, Amber and Daniel, listed below.

Jennifer Claybourne was born on 7 August 1969 to Steve and Dorothy Claybourne. She worked with the digital collections unit of the University of Minnesota Library. Jennifer married Scott A. Torkelson and they had a daughter, Sylvia I. Torkelson.
Amber Claybourne was born on 19 September 1977 to Steve and Sue Claybourne.
Daniel Claybourne was born on 15 July 1979 to Steve and Sue Claybourn.

Philip Claybourne was born on 14 July 1945 in St. Paul, Minnesota. He married Penny Dando, who died on 1 February 2022. Together they had one daughter, Annie, listed below.

Annie E. Claybourne was born on 27 July 1971. She married Steven Doyscher and they had two children.

Zachary R. Doyscher was born in 2001.
Grace K. Doyscher was born in 2006.

Marcia Claybourne was born on 17 July 1949 in St. Paul, Ramsey, Minnesota.

John Phillip "Phil" Claybourne was born on 28 October 1919 in Albert Lea, Minnesota. He was an Army veteran of World War II, serving in the Army Air Corps. On 3 March 1944 he married Kathryn "Kay Kay" Butt in Wayne County, Minnesota.[

Kay Kay Butt was born on 6 April 1919 in Jacksonville, Florida.

] She had previously been married to Lucien G. Fischesser.[

The two were married in Lake County, Florida and were married there in 1939. Lucian lived from 1920 to 2000. Kay Kay divorced him in Brevard, County, Florida in 1944.

] She had two children from that marriage, Thomas and Mary Kay, which Phil later adopted.Phil worked as a physicist for the National Aeronautical Space Administration. He wrote many scientific papers and a book entitled "Myths and Misconceptions of Modern Science". Phil was a member of the AFL-CIO and Rock of Ages Lutheran Church, Wildwood. Kay Kay died on 13 July 1999 in Orlando, Florida. Thereafter Phil moved to Wildwood, Florida, where he died on 19 February 2013. Both are buried in Greenwood Cemetery in Orange County, Florida.

Thomas Joseph Claybourne was born in 1941 to Lucien and Kay Kay Fischesser. When Kay Kay remarried Phil Claybourne, Phil adopted him and Thomas took the Claybourne surname.
Mary Kay Hart-Walden was born in about 1943 to Lucien and Kay Kay Fischesser. She was later adopted by her step-father Phil Claybourne.

Robert Morton Claybourn was born on 30 June 1921 and died at the young age of two years old on 2 April 1923. The cause of death was attributed to pyaemia (also spelled pyemia), which is a septicemia accompanied by multiple abscesses and secondary toxemic symptoms and caused by pus-forming microorganisms, usually from a type of Staph infection.
William Morton Claybourn was born on 7 September 1922. He married Mary Lynn Peterson.[

Mary Peterson was born on 1 November 1926.

] They had two children, listed below. Mary died on 11 July 2015.

Brian William Claybourn was born on 19 June 1953 in Minneapolis, Minnesota. He grew up in Denver, Colorado, and together with his family they spent much time traveling in the outdoors, hiking and camping, which instilled a lifelong love of wilderness. Brian also loved music. As a child, he played violin, then guitar and mandolin. He kept improving as the years went by, and he would often show up with his mandolin at a rock or bluegrass club and end up sitting with the band and jamming the night away.Brian was part of the Class of 1971 of Kennedy High School in Denver, and went to college, originally studying forestry and then changing to geology after his first year. He graduated from Colorado State University in Ft. Collins in 1977.He collected old glass telephone insulators, minerals, crystals, old mining equipment, guitars, and music. In the 1960s and 1970s, to get to the insulators, he would walk the old railroad lines and could easily shimmy up a telephone pole to reach the abandoned glass insulators.After his first year of college, he followed a girlfriend to Europe and hitchhiked around Spain, France, Andorra, and Holland. He returned via New York City and visited his Uncle Bob Claybourne who was serving on a sequestered jury, but finagled a way to see his nephew. Brian had no money left, so he wandered NYC on foot and later hitchhiked all the way back to Colorado.Other summers during college were spent working construction, including helping build his cousins' family cabin at Tin Cup and visiting the State of Washington. After college graduation he took a job with a title company but soon found work in his field of geology. He was most happy working in the field, and fortunately he was able to travel – either for work or study – throughout the mountains of Colorado and to many spots in Latin America, including Honduras, Brazil, and Guatemala. Although he was not religious in the traditional sense, he had distinctly spiritual qualities about him throughout his life and often found it in nature, including outdoors during these travels.In 1988, he married Christine Streeter and began an even greater adventure, that of parenthood. They had a son, Max, and Brian doted on him. Even after splitting from Christine, Brian remained supportive, active, and involved in Max's life. He never let the divorce interfere with being a loving father. Similarly, he adopted two children through Save the Children; both were little boys in Sri Lanka growing up in the midst of a civil war.

Brian later traveled to Venezuela to work for a mining company that was located in the Bolivar gold fields in Tumeremo. He met Lucia Herrera Moreno at a Christmas party in which everyone else was dressed elegantly and Brian entered in shorts, sandals, and one of his signature broad-brimmed hats.[Herrera Moreno was born on 1 September 1962.] He told another party-goer who was checking out Lucia, "She's my girlfriend, leave her alone." He then proceeded to introduce himself to Lucia and declared himself in love at first sight. Lucia called him Indiana Jones, and he definitely looked the part. He married Lucia Numilde Herrera Claybourn and became a stepfather to Emily Stephany Medina Herrera who was only five at the time.

When he brought Lucia and little Emily back to Colorado. The couple then welcomed a son, Sean. Brian and his new family continued to follow opportunities for his work in the mining industry, and they moved to Silver City, New Mexico, while he worked at a large, nearby open pit mine mapping ore bodies. Typical of the mining industry, that opportunity didn't last all that long, and they ended up back in the Denver area by the late 1990s and bought a house less than a mile from his brother Al's house. At that time, Brian focused his career more on construction inspection since it was more stable than mining and he could work more in the Denver area. He started that work at Kumar & Associates, where Al spent the last eighteen years of his career, and moved on to several other firms in the last fifteen years or so.

By 2007, Brian and Al's parents, Pete and Bill, moved into an addition to Al's house. During those years, Brian typically showed up at Pete and Bill's apartment at least 2 or 3 times a week just to chew the fat and tell old stories (again), and take Pete and Bill on walks and drives. Pete and Bill appreciated the accommodations at Al's house, but Brian immensely improved their quality of life by being there for them, too. Brian passed away on 23 March 2016 surrounded by his loving family, after battling a rare and sometimes fatal disease, amyloidosis, for several months.

Max W. Claybourn was born on 7 September 1989 to Brian and Christine.
Sean Thomas Claybourn was born on 19 June 1996 to Brian and Lucia Numilde Herrera Claybourn.

Alan Franklin Claybourn was born on 9 February 1956 in Minneapolis, Minnesota. He worked as a civil engineer and lived near Denver. He married Jeanne Blackwell (born 15 October 1956 in Minneapolis) and they had two children:

Lanaya Claybourn was born on 1 September 1981.
Aaron Claybourn was born on 11 January 1986.

Ruth and Lew sharing a laugh

Roberta Ruth Claybourne ("Ruth") was born on 3 July 1924 in Albert Lea, Minnesota. As the child of a bookbinder and schoolteacher, and the only daughter among several siblings, she found a haven among books. Her daughter Nell writes, "Her love for reading showed at an early age – her only true digressions from obedience were the literary contraband under her covers and the rolled-up towel hiding the bar of light under her door past bedtime." Her other great love was for dogs and, naturally, she would often read stories of canine heroes. Ruth was editor of the school newspaper and class valedictorian at Albert Lea High School Class in 1942.Ruth's daughter Nell writes, "The most memorable day of her childhood came at age 13 when she was finally afforded much-needed prescription eyewear. Her entire world came alive in sharp detail." For years she had sat in the front of the class; she had squinted and waved at blurry passersby who called her name, and she had failed to distinguish the most basic elements of her visionary world due to acute astigmatism. Nell adds, "Her parents failed to respond earlier to her request for eyewear in keeping with their consistent favoritism displayed to their boys. She was never one to complain, but she revealed to me, her only daughter, that while she was growing up, it was always, 'Mom's boys this and Mom's boys that.' Not until my grandma (Nellie) lay on her deathbed did she admit the error of favoring her sons when, 'it was you who always came through for me, Ruthie.'"

Lew Woods

Ruth learned the classics at the knees of her maternal grandparents, Charles and Ella Hill who also resided in Albert Lea. The Sunday afternoons spent in their house afforded her a much-needed refuge from the teasing of her brothers. Here she read aloud the Greek classics, Whitman, Longfellow, Emerson, and nonfiction at the behest of her grandparents.

Ruth was not only bright, but attractive; however, she had no use for boys (since she had four teasing brothers) until she dated in college. Once on a date when a boy teased her by saying that men never make passes at girls who wear glasses, she replied glibly, "But girls who wear glasses, of men can make asses." Ruth did eventually marry, however, to Lucius Earl Woods ("Lew"). Lew was born in 1921 as the son of Henry Earl Woods (1883-1964) and Esther May Potter (1882-1950). Ruth's daughter Nell writes, "When she met my father, I believe she saw a soul mate at last. Indeed, my parents maintained a passion for each other right up until the end. He was so refreshingly different from her brothers – he was a gentleman, an intellectual, and an equal partner." She wrote to him on their 44th anniversary, the last one celebrated before she died: "Forty-four years ago I met and married the best of men, and you've never once let me down."

Ruth died on 25 March 1995 in Denver, Colorado, and Lew died just months later on 10 October 1995. Ruth, her husband, and their son Samuel are all buried in Fairmount Cemetery in Denver County, Colorado.

Henry Earl Woods was born on 20 June 1954.
Samuel Claybourne Woods was born on 15 March 1956 in Denver, Colorado and died at a young age on 17 January 1975. Samuel's sister Nell writes that his death "was the tragic culmination of his sad, short life. [His mother Ruth] often told me that she felt that he had died three times. Once when they discovered his developmental disability, a second time when he was no longer able to live at home (he went to live with Lavinia when I was born and subsequently institutionalized at age four), and finally when he met his untimely end." At his death in 1975 his mother Ruth was working for the Minnesota state legislature as an aide under the administration of Dick Lamm.

Beverly Nell Woods Bravo

Beverly Nell (Woods) Bravo ("Nell") was born on 28 December 1958 in Denver, Colorado. Beverly wrote that she often felt "born out of place" and "gravitated consistently toward anything exotic" compared to her "lily-white upper middle class childhood in Southeast Denver in the 1960s and '70s." She goes on: "Trips to the Navajo reservation were quite formative, as well as exposure to Denver Democratic political circles." At around age ten she discovered a love for both Spanish and politics–two fields which later compelled her to study abroad in both Mexico and Spain and to take part in scores of political demonstrations and protests over the years.Beverly married (1st) Hector Enrique "Tito" Bravo (born 25 December 1954) on 15 March 1982. Hector had a daughter, Anesa Carmen Westmoreland, that Nell helped raise. That same year Nell earned a Bachelor of Arts degree in Spanish, and later in 1992, earned a Master of Public of Administration in Public Policy. In 1995 Nell and Hector had a son:

Nell and Hector divorced roughly five years later on 1 August 2000. Following the divorce "itchy feet" led her to travel and study dance; two areas which later formed the basis for one of her favorite projects–sponsoring children in Mexico and funding her sponsorships by teaching salsa aerobic classes in Denver. Beverly married (2nd) Eddy Coello Frometa on 18 April 2005; they divorced on 18 December 2007.

Mario M. Bravo was born on 24 September 1995.

Paul Robbin ("Bob") Claybourne was born on 27 March 1927 in Albert Lea, Minnesota, and died in 1997 in Denver, Colorado.
Francis Claybourne was still born (and therefore died) on 15 November 1929.
---
References and Notes

This work is licensed under a
Creative Commons Attribution-NonCommercial 4.0 International License.