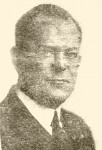 Leslie William Claybourn was born on 13 June 1883 in Albert Lea, Minnesota. By 1914 he was worked as a development engineer for a Cincinnati printing machinery company and in 1918 became Vice President and Director of Operations of Kenosha (Wisconsin) Printing & Carton Co. (1918) and perfected a process for printing pictures on butter and ice cream cartons.
When business would slow down, Leslie supplemented his income by moonlighting as a professional wrestler. Known as Lex "The Terrible Swede" Claybourn, he once held the lightweight championship.
Leslie's advanced techniques, involving both improved machinery and new ways of producing printing plates, attracted a great deal of industry attention. In 1921 he organized the Claybourn Process Corporation in Milwaukee, Wisconsin, and built a large factory on Humboldt near Keefe Avenue. One of the company's first customers was the Milwaukee Journal. Other newspapers followed, including The New York Times, The Philadelphia Inquirer, Cleveland Plain Dealer, and many more. By 1929, Conde Nast was printing Vogue on a Claybourn five-color press.
One ingredient to Leslie's success was a multi-color press which printed from curved precision electrotype plates. Leslie's company also built proof presses with reciprocating beds and stationary carriages, and also the first power carriage proof press in the United States. Over the years he patented over 200 printing processes and throughout his life Leslie was considered a printing process pioneer. In a 1929 article, a national trade publication, The Pressmen's Journal, wrote, "Mr. L.W. Claybourn is one of the outstanding geniuses of the printing industry of the world, and it has been said by many authorities in the printing and printing machinery fields that Mr. Claybourn is actually 25 years ahead of the industry."
On the last day of 1930, Leslie's car was involved in a collision at the intersection of North Prospect and East Newton avenues. Claybourn's car was thrown sideways into a unity pole, snapping it off at its base. He spent all of 1931 in a cast and never fully recovered from his injuries.
Despite his injuries, Leslie did not slow down. In 1932, he published the informative booklet, The Printer and the Future: All industry faced with demand for greater efficiency … New Standards of Printing Practice Inevitable. In 1934, the Claybourn company made headlines when it unveiled a 72-ton five-color press able to print 4,000 sheets per hour while cutting set-up time in half. The gain in efficiency was startling. This high-speed full-color press could be up and running as quickly as a relatively simple two-color press.
Despite Claybourn's success, the economic strain of the Great Depression soon took its toll. In 1937 the C.B. Cottrell & Sons Co. took over Claybourn's firm. It continued to use the Claybourn name but stopped the production of proof presses. Thereafter Leslie was associated with several other printing firms. He was the 1952 recipient of the Lewis Memorial Lifetime Achievement Award, which is still presented by the Printing Industries of America.
Leslie was a 32nd Degree Mason; member of the Laipoli Shrine; life member of International Pressman's and Assistant's Union; the Printing House Craftsmen's Club in Milwaukee and several other cities; member of the Milwaukee Athletic Club, the Illinois Athletic Club and the Lakeside Club – both of Chicago – and the Advertising Club of New York City.
Leslie married (1st) on 31 August 1901 in Faribault County, Minnesota, to Phoebe Blowers, who was born on 25 March 1883 in Faribault County. They had two children (listed below) and then separated soon afterwards as she is working as a domestic in Saint Paul, Minnesota, in the 1905 and 1907 city directories.[Phoebe married again on 23 September 1911 in Ramsey County, Minnesota, to Leo John Marcotte (1886-1930).] Phoebe died on 19 September 1928, probably in Minneapolis. Leslie then married (2nd) Elsie Gray, most likely in 1907.[Elsie Gray was born on 2 April 1884 in Winona County, Minnesota.] They had three children living to adulthood, listed below, and divorced in about 1920.[Elsie Gray married widower Charles Ira Schofield (1877-1941) in about 1933.]
Finally, Leslie married Emily Herkenroeder on 20 May 1925 in Indianapolis, Indiana.[Emily Herkenroeder was born on 13 July 1883 in Chicago, Illinois.] They sailed from the Panama Canal Zone to New York in August 1926 (most likely from a trip to see Leslie's brother John) and they sailed from Havre, France to New York in August 1929. Later they returned on a visit to the Panama Canal Zone and sailed from there to New York in March 1938. They had no children. John died on 10 December 1956 at the age of 73 and is buried at Wisconsin's Memorial Park. Emily died on 26 November 1964 in Milwaukee, Wisconsin.
Descendants
Glen Leonard Claybourne was born on 21 March 1902 in Ramsey County, Minnesota, with the father listed as Leonard Claybourne and the mother as Phoebe Blowers. After his parents divorced, his mother did not have the financial means to care for the children so Phoebe's sister-in-law, Marion Stoughton, accepted him into her home and raised him to adulthood. They lived near Rapid City, South Dakota. He graduated from South Dakota State College in 1927 and eanred a bachelor of schience in engineering. During the summer of 1927, while Glen was a college student, he worked for the Rapid City Highway Department. In late August, he was assigned to help Gutzon Borglum to assist in any way possible with a project near Keystone, South Dakota. Glen helped to move a winch to the top of Mount Rushmore, secure it for use, and make measurement of the rock surface. Gutzon gave Glen an autographed photograph of his first model of Mount Rushmore with the head of George Washington carved thereon. Glen revisited Mount Rushmore on his honeymoon with Ester in July 1930. He took a picture of his new wife standing on the scaffolding next to Washington's nose.

Glenn worked for Westinghouse his entire professional career. While at Westing-house his career evolved from a design engineer, senior engineer, fellow engineer, to an advisory engineer. He held many patents for his designs in electrical engineering. In addition to his career with Westinghouse, Glen served his country in the U.S. Army. He earned the ranks of captain, major, and lieutenant colonel. He was a member of the Westinghouse Team that worked on the Manhattan Project during World War II. He retired from the Army Reserve in 1962. He was also a Freemason.

In 1930 he married Ester Laird Alston (1907-1975) of Pittsburgh, Pennsylvania. They had three children. Glen served in the U.S. Army from March 1942 to July 1944. Ester experienced a devastating stroke at the age of sixty-one which left her incapacitated and she passed away at the age of sixty-eight. Glen later married Harriet Elizabeth Ridall (1906-1992), widow of Harvey Robert Simpson (1906-1957). Glen died on 24 December 1987 in Citrus County, Florida, and is buried there in Old Ridge Cemetery.

Glen Alan Claybourn was born on 7 August 1931 in Pennsylvania. He served in the U.S. Army from November 1955 to September 1957. He died on 1 May 1975 in Murrysville, Westmoreland County, Pennsylvania, and is also buried in Homewood Cemetery.
Caroline Jane Claybourn was born on 6 September 1934 in Jersey Shore, Lycoming County, Pennsylvania. She married Calvin Wayne Eberlein (1931-1981) on 8 July 1955 in Brookings County, South Dakota. She earned an associate degree in engineering at South Dakota State College. They had five daughters and one son. They settled in South Bend, Indiana, and she died there on 4 May 2012. They are buried in Olive Cemetery.
Patricia Sue Claybourn was born on 10 August 1938 in Pittsburgh, Pennsylvania. She married Richard C. Uhnavy. She died on 17 July 2005 in Montcalm County, Michigan, and she is buried there in East Montcalm Cemetery.

Margurite (or Margaret) Annetta Claybourne was born on 19 May 1910 in St. Paul, Minnesota, to John Claybourne and Phoebe. On Social Security records, her parents are named as John Claybourne and Phoebe Blowers, and her first name is spelled "Margaruite." Following her parents' divorce, her brother Glen was taken in and raised by a family, but Margurite was not so fortunate. She was put into the foster care system and had a difficult childhood that included many foster homes. As a young adult she put herself through college. She worked her entire adult life as a registered nurse. She married Mr. Stenzinger before 1995 and died on 28 October 2002 in Chisago County, Minnesota.
Leslie Owen Claybourne was born on 2 May 1908 in Winona County, Minnesota, and died some months later on 23 September 1908 in Winona County, Minnesota.
A baby boy Claybourn has both a birth record and a death record on 8 April 1910 in Winona County, Minnesota. His birth record is without the final "e" in his surname but his death record has it. Some records suggest that this baby was a twin, which died in infancy.
Minnie Bona Claybourn was born on 21 September 1911 in Winona County, Minnesota. She dropped Minnie from her name (thereafter going by "Bona") and added Zoe as a middle name. She was living with her father and brother in Monroe County, Wisconsin as of the 1920 census and with her mother and brother in the same area as of the 1930 census. Her first marriage to a Mr. Henderson and her divorce from him happened before the 1940 census, which shows her as divorced using her maiden name and living with her mother and step-father. On 27 July 1940 she married Roy Helmer Bronson.[

Roy Bronson lived from 1899 to 1977 and hailed from Barron County, Wisconsin.

] Long Beach, California city directories from 1943 and 1945 show Roy H. Bronson and his wife Bona as residents. The 1954, 1956, and 1957 city directories for Eau Claire, Wisconsin show Bona Z. Claybourn working as an office clerk. Bona died on 4 November 1980 in Eau Claire County, Wisconsin.
Carlton Clayton Claybourn was born on 12 January 1914, in Norwood, Ohio. He lived in Northbrook, Illinois and married Ruth Norma Stroede. Ruth was born on 26 December 1913 in Milwaukee, Wisconsin and died on 10 February 2008. They had two children, listed below.

Charlotte Carrol Claybourn was born on 6 August 1941 in Buffalo, New York. She married Jack C. Stemper on 3 March 1962 in Great Lakes, Illinois. They had three children.

Carrie Lynn Stemper was born on 13 September 1962 in Great Lake, Illinois. She married Thomas Medina on 17 September 1983 in Fresno, California, and they had one child. On 22 August 1992 she married Mark H. Bancroft and they had one daughter.

Clayton Anthony Medina was born on 19 November 1984 in Fresno, California. Clayton married Ashley Alana Dowden on 27 August 2010. They had a daughter, Claire Nanette Medina, on 8 August 2014 in Reedley, California.
Emily Bancroft was born on 3 September 1993 in Sacramento, California. She married Jacob Alan Hieronymus on 12 September 2014.

Julie Lynn Stemper was born 5 December 1963 in Great Lakes, Illinois. She married Vincent Spagnuolo on 23 April 1983. They had one daughter, Vincenza Stemper Spagnuolo, on 29 December 1986 in Fresno, California. She then married Jorge Brasil.

Trudy Lynn Stemper was born 22 September 1969 in Bellevue, Nebraska.
John Leslie Claybourn was born on 17 July 1945 in Evanston, Illinois. He married Anna Marie Franchi on 15 July 1967. Together they had two children:
Matthew John Claybourn was born on 15 May 1974 in Highland Park, Illinois. He married Gina Nishimura Speer on 19 June 2003 and they had one daughter, Cera, listed below. Matthew and Gina divorced in about August 2011. Matthew owned Profound Affects Screen Printing, which he started in 1996. His work in the printing business continued a long-standing tradition of Claybourns in this branch who worked in that field.

Cera Colleen Claybourn was born on 29 January 2008.
Luke Clayton Claybourn was born on 27 February 1977 and married Melissa Sphar on 23 August 2003. They had several children, listed below.
Sophia Rose Claybourn was born on 5 November 2003.
Ashley Anne Claybourn was born on 4 May 2006.
Olivia Lynn Claybourn was born on 22 May 2008.
Joshua John Claybourn was born on 8 June 2011.
Weston Beau Claybourn was born on 15 August 2012.
Amanda "Mandy" Jane Claybourn was born on 8 May 2015.
---
References and Notes