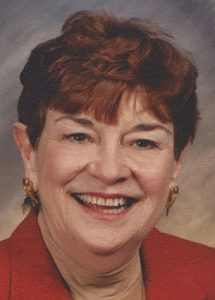 Judith Mae Claybourn ("Judy") was born on 14 January 1933 in Evansville, Ind., to William R. Claybourn and Colice Lorene Piper. She graduated with honors from Reitz High School in 1950, at the age of 17. Her senior class members voted her the "wittiest in the class." She won one of eight scholarships in the state offered to students in Vanderburgh County on the basis of competitive examinations, which she used to attend Indiana State University ("ISU"). There, at ISU, she met her college beau, Donald L. Howard, and on 6 May 1951, the two married in Attica, Indiana.[Don was born on 16 November 1930 in Williamsport, Indiana, and reared in Attica, Indiana, where he graduated high school. He entered Indiana State University in 1949 and was graduated with a bachelor of science degree in the class of 1953.]
Upon completion of his reserve officer training program, Don was commissioned an Ensign, United States Naval Reserve, and later augmented to regular Navy in 1959. He was a graduate of the U.S. Naval Postgraduate School and the Navy War College. He was the commander, destroyer squadron ten and four, six, twenty and thirty-six, the commanding officer of the USS Bowen, USS Venture, and additional duties assignments were on the USS Comstock, USS Kawisiwi, USS O'Bannon and USS Reeves. His shore duty assignments include U.S. Naval Research Center, Chief of U.S. Navy Research and Development Unit (Vietnam), and the office of Chief of Na-val Operations, International Division (NATO). Captain Howard's personal decorations include The Legion of Merit, with Gold Star in lieu of 2nd award, the Bronze Star with Combat Distinguishing Device, The Meritorious Service Medal, The Navy Commendation Medal with Combat Distinguishing Device and the Army Distinguished Service Order (Vietnam decoration). His unit, campaign, and service awards are the Navy Unit Commendation with Bronze Star in lieu of 2nd award, National Defense Service Medal, Korean Service Medal, Vietnam Service Medal, (seven engagement stars), United Nations Service Medal, Republic of Vietnam Campaign Medal and the Vietnam Presidential Unit Citation, as well as many more prestigious honors.
Judy spent three decades following her Navy sailor around the globe settling in many home ports within the States, Hawaii and Japan. She truly enjoyed the life of a Navy wife even with all of its hardships of family separation and raising the children on her own. During these Navy days she also found time to be a volunteer to The Navy Relief Society for counseling young Navy families in budgeting their household expenses.
She became a great hostess at an early stage and was considered an excellent cook by all her friends. Her friends thought of her as having a number of traits, including enjoyment of reading any book she could get her hands on, doing crossword puzzles in ink and a talent at sewing with some of her own design changes. She particularly loved to study the history of the Civil War (War Between the States) and considered herself an expert on the subject. She especially enjoyed studying the Civil War history of her great-grandfather James Harrison Claybourn.
Only after 30 various moves over the years of being a "Navy wife," she was heard to say "it is time to move." She has sustained her witty personality throughout her lifetime that has been a blessing to family and friends.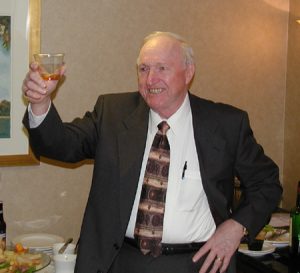 In 1982, as Don was ending his Navy career, Judy graduated from Old Dominion University in Norfolk, Va., with a Bachelor of Science degree in business administration and accounting. With her B.S. in hand, she pursued a brief career in managing finances for military contracts "just for the fun of it."
During the last ten years of her life Judy was a member of Bruton Parish Episcopal Church, where she served as a Bruton Parish guide. She very much enjoyed sharing the church's rich history with guests visiting the church. She got a lot of pleasure in meeting people from all walks of life to not only tell them about the church but to swap a few good stories. She was an Annual Volunteer Tax Preparer for the local AARP project to help low-income and elderly taxpayers. She was also a long time member of the National Society, Daughters of the American Revolution (DAR), Adam Thoroughgood Chapter, Virginia Beach, Va. She was a family member of the Claybourn Genealogical Society.
Judy died at the age of 74 on 17 October 2007, surrounded by family after a long courageous battle with lung cancer. Judy and Don's only son, William Claybourn Howard, preceded them in death in 2005. At the time of her death Judy and Don had been married for 56 years. Her funeral was held on October 20th, at Bruton Parish Church with the Rev. Molly Turner officiating. Interment was held on November 28th in the Arlington National Cemetery; images of the interment are below. Don died on 26 May 2015 with interment taking place at Arlington National Cemetery.
Descendants
Susan Piper Howard, known as "Piper," was born in 1958. On 15 December 1974 she married Javen Jay Fogelman in Virginia Beach, Virginia. Together they had one son, Robert, listed below. Later Piper divorced on 15 November 1976 and then married Barry McLawhorn on 18 October 1987.

Robert Jay Fogelman was born on 27 April 1975. He married a woman named Anita.

William Claybourn Howard was born on 18 December 1960 at the Princess Kapiloni Hospital in Honolulu, Hawaii. With his father frequently moving around as part of the Navy, William lived in many places in the states and overseas. A life long independent carpenter by trade, he established Claybourn LLC, a Handyman service company, in 2004. His belief in providing quality work at reasonable rates won him many satisfied customers. He was an avid animal lover. The last four years of his life were spent in Williamsburg, Virginia to be near his parents. William died on 14 July 2005 after a valiant fight with cancer. He is buried at Bruton Parish Churchyard in Williamsburg, Virginia.
---
References and Notes