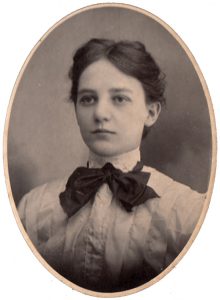 Lena Grace Claybourn was born on 14 January 1884 in Woodlawn, Illinois. At the age of twenty-five on 26 May 1909, she married Lawrence M. Heggy.[Lawrence Heggy was born on 19 December 1885 in Hutchinson, Kansas. He was the son of Tom and Frances (Lee) Heggy and lived in Corbin, Kentucky, but moved to Mt. Vernon when he was fourteen years old.]
He and Lena lived in Mt. Vernon three years after they were married, and then moved to Evansville, Indiana, in 1912 when he began working for the Louisville & Nashville (L&N) Railroad as a brakeman on freight trains. Later he was a freight conductor for many years. The latter part of his service was as a passenger conductor from Evansville to St. Louis. He was preparing to retire when he was struck with a heart attack in Evansville on 1 September 1950 just before turning 65. He is buried in Oakwood Cemetery in Mt. Vernon, Illinois.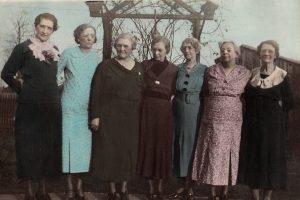 Lawrence was a member of the Brotherhood of Railway Conductors and the Reed Masonic Lodge Royal Arch Chapter No. 12. He was a member of the Howell Methodist Church where he was a Trustee and on the Official Board.
Lena sang in the choir of the Howell Methodist Church and sang at many funerals. She was president of the Ladies Aid, a Circle Leader, and was in the Ladies Auxiliary of the Order of Railroad Conductors, being Senior Sister and leader of the officer's drill for initiations. She belonged to the Eastern Star Lodge.
After Lawrence's death, Lena moved to Mt. Vernon where she was active in the First Methodist Church. In all of the organizations she was involved with she was a capable and good organizer. Lena and her husband were kind to Martha Harriette Threlkeld, their niece, who was fatherless at an early age and who spent part of every summer in their home.
Lena died on 11 April 1965 in Mt. Vernon, Illinois and is buried there at Oakwood Cemetery.
Descendants
Lena and Lawrence had one son:
Maurice Franklin Heggy was born 1 November 1911 in Mt. Vernon, Illinois. He graduated from Reitz High School in Evansville, Indiana, where he played in the band. He attended Lockyear Business College and worked in the office of George Koch and Sons, a company manufacturing metal goods. Maurice died on 17 February 1934 at the young age of 22 and is buried in Oakwood Cemetery in Mt. Vernon.
---
References and Notes