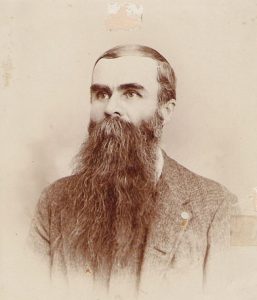 James Harrison Claybourn, the third child and oldest son of William Divine Claybourn, was born on 27 April 1843, in a log cabin on the Claybourn farm in Jefferson County, Illinois. He grew up on that farm and received his schooling near there. He and all the Claybourns loved to sing, and he told of how they would sing after they ate the noon meal while resting before returning to work in the fields. They would drive miles at night to gather a group to enjoy singing.
By his own statement we know he was named for his Uncle James who lived in Tennessee, and the "Harrison" probably for his mother's brother, Harrison Hawker. He was called "Uncle Jim" by his nieces and nephews.
Civil War Service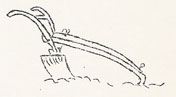 Early in May of 1861, when James ("Jim") was barely 18 years old, the call for volunteers for the northern Union army came to Rome (now called Dix), Illinois. Jim was very patriotic and felt it was his duty to help preserve the Union. Indeed, his sense of duty was so strong that when the call for volunteers came to Rome, he went off to enlist, leaving his plow standing in the field.[The plow was left on the Claybourn farm at the northwest corner of the intersection of the C&EI Railroad and the road that leads from Dix to Texico.]
Jim first enlisted in Company "C" of the 22nd Ohio Volunteer Infantry, and served with this group for sixty days. Following his stint with the 22nd Ohio Volunteer Infantry, he returned home to enlist in a different group with his father. In a letter written to his nephew Verner Claybourn in 1906, Jim wrote:
"Your grandfather (William Divine Claybourn) and I enlisted in Company 'H' First Illinois Cavalry about July 15, 1861; was first rendezvoused at Cairo, Illinois, but soon were transferred to Bird's Point, Missouri, from which place we scouted through southeastern Missouri and western Kentucky during the winter of 1861-62 and when, with Pope's command, we marched on New Madrid, Missouri.

"You can get a much better account of that from the history of the Civil War than I could give you, but suffice it to say that after the fall of Island No. 10 and Tiptonville, Kentucky, we proceeded down the Mississippi River, and sometime in June 1862 we landed from the transports, and Co. H First Illinois Cavalry were the first U.S. troops to enter the city of Memphis, but on July 1st were ordered to St. Louis to be mustered out of service, and about July 7th we received our discharges and went immediately to our homes."
Read the biography of his father, William Divine, for a more complete description of his company's activities with the First Illinois Cavalry. Jim was nicknamed "star-gazer" because he held his head so high when he marched. Confederate Brigadier General Jeff Thompson said of Jim's unit, "The cavalry are a perfect set of daredevils, all officers wearing feathers on their hats." Jim was mustered out of the First Illinois Cavalry as a Corporal on 5 July 1862, according to his army record.
After his stint with the First Illinois Cavalry, Jim enlisted with the 80th Illinois Volunteer Infantry Regiment. His army record shows he joined the 80th Illinois on August 12th and mustered in as a Corporal on 25 August 1862, at Walnut Hill, Illinois. As with others in his unit, Jim signed up for a period of three years. His description as it appears on his record is: Age: 19; Height: 5 ft. 7 in.; Hair: Black; Eyes: Hazel; Complexion: Dark.
Jim's regiment was composed of ten companies that drew primarily from eight southern Illinois counties, including Jefferson County. Over the course of the war the regiment traveled approximately 6,000 miles and was in over 20 battles.[In a letter Jim summarized his service this way: "In August 1862, the 18th day I think it was, your Uncle Bill and I enlisted in Co. H. 80th Illinois Infantry and served in that organization until the close of the war in 1865, and served in what was known as the Army of the Cumberland under Generals Thomas, Hooker, Howard, Sherman, and Grant, serving in several different brigades, divisions, and army corps, and were with Colonel Streight on his raid to Alabama in the spring of 1863; was captured and sent as prisoner to Richmond, Virginia."] In its first principal action of the war the regiment participated in the Battle of Perryville (also known as the Battle of Chaplin Hills) and suffered extensive casualties. The 80th Illinois lost 14 killed and 58 wounded. Eye witness reports suggest that three days after the fight there were still dead bodies lying on the field.
In the spring of 1863 the 80th Illinois took part in Streight's Raid in northern Alabama. Due to poor supplies and poor planning it ended with the defeat and capture of Col. Streight and his men (including Jim) at Cedar Bluff, Alabama by Confederate General Nathan Bedford Forrest. The officers were sent to Libby Prison while the enlisted men were sent to Richmond. While the officers largely remained imprisoned for the remainder of the war, the enlisted men were sent to City Point before being exchanged for Confederate prisoners.
After being exchanged, the enlisted soldiers set out again, this time under new leadership. In October and November 1863 they took part in the Chattanooga Campaign, including the battles of Lookout Mountain (28 October 1863), Mission Ridge (23rd and 24th of November, 1863), and the Battle of Buzzard Roost (25 February 1864).
After helping capture Chattanooga, the 80th Illinois participated in the Western Theater's Atlanta Campaign throughout northwest Georgia and the area around Atlanta under the command of General William Sherman. In a letter Jim described the service this way:
"During our term of service, I do not know how many battles we were in, but the most severest were when we were in Sherman's campaign from Chattanooga, Tenn., to Atlanta, Ga., when we were constantly exposed to the enemy's fire for about three months. We engaged in all the heavy battles of that campaign up to July 4, 1864, when I was wounded and sent to the hospital."
Jim was wounded by a Minnie ball, a kind of conical rifle bullet which passed through his leg. The injury happened while the group was on the front lines near Nickajack Creek during the battle of Marietta, Georgia. His fellow solider (and later a brother-in-law and business partner) James VanCleve Bruce described the incident in a letter back home:
"We had some 14 or 15 wounded that day. Jas. H. Claybourn making one of that number. After we had taken the skirmish pits we lay down while the 2nd line was coming across an open corn field. Then the Rebs commenced throwing shells and canister but we were too near them and behind a hill. We soon had a line of works. While throwing up dirt, Claybourn had just taken the spade from me. I was in the pit by him when a musket ball hit him in the thick part of the right thigh but didn't affect the bone. He stood it like a hero. He scarcely grunted. He laughed some before he left. Harris Ingram saw him yesterday. He was in fine spirits. If he gets along right I guess he will be at home before he comes back. He hated to leave us and we hated to give him up, but had rather he would go this way than the way many others went."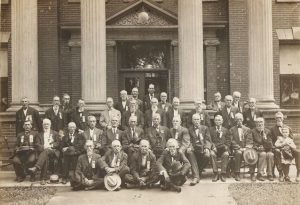 On 1 October 1864, Jim was promoted to sergeant and transferred to Co. C. 8th Veteran Reserve Corps with headquarters in Chicago where he remained on duty until 10 June 1865, when he was mustered out at Camp Harker, Tennessee.[1st Duty Sergeant D. F. Strattan furnished this list of the battles in which the 80th Illinois Volunteers participated. John Riley Cunningham was Captain of Co. H.: (1) Perryville, Kentucky – 8 October 1862, (2) Milton, Tennessee – 20 March 1863, (3) Hog Mountain, Alabama – 30 April 1863, (4) Sand Mountain, Alabama – 1 May 1863, (5) Turkey Creek, Alabama – 2 May 1863, (6) Lookout Mountain, Tennessee – 28 October 1863, (7) Mission Ridge, Tennessee – 23rd and 24th of November, 1863, (8) Buzzard Roost, Georgia – 25 February 1864, (9) Dalton, Georgia – May 1864, (10) Resaca, Georgia – May 1864, (11) Dalton, Georgia – 25 May 1864, (12) Pine Mountain, Georgia – 10 June 1864, (13) Kennesaw Mountain, Georgia – 27 June 1864, (14) Marietta, Ga. – 4 July 1864 – Battle in which James was wounded. Because Jim was wounded he did not participate in the 80th Illinois Volunteers' remaining battles: (15) Chattahoochie River – 6 July 1864, (16) Peach Tree Creek, Georgia – 20 July 1864, (17) Atlanta, Georgia – 22 July 1864, (18) Jonesboro, Georgia – 1 August 1864, (19) Lovejoy, Georgia – 2 August 1864, (20) Franklin, Tennessee – 30 November 1864, (21) Nashville, Tennessee – 15th and 16th of December, 1864. This was part of the Fourth Army Corps.]
On 8 October 1914, Jim attended the 25th annual reunion of the 80th Illinois Regiment – held at Sparta, Illinois – on the 52nd anniversary of the battle of Perryville, the first engagement in which they participated. Twenty nine members of the regiment were present. When Harriette Threlkeld was a child, "Uncle Jim" took her to a Civil War reunion (possibly the one in October of 1914) where she was made the "adopted daughter" of Company H.
Marriage to Polly
Shortly after he returned home, Jim married Polly Ann Yandell of Shiloh Township. She was 17 years old and was by all accounts a beautiful girl. She was the daughter of James Yandell. Polly's sister was Elizabeth Hannah Yandell (1844-1866), who married James VanCleve Bruce (1836-1927), a close friend of James Claybourn in the war and later a business partner. The two families had numerous friendships and marriages between them.[In the 1860 census the Yandell family is living in Township 1 Range 1 in Marion Co, IL, with Polly being the youngest. Her oldest sister Martha J Yandell (1838-1884) had married Samuel T Bruce (1831-1888) in 1855 in Marion County, Illinois, and middle sister Elizabeth Hannah Yandell (1844-1866) had married his brother James VanCleve Bruce (1836-1927) in 1859 in Marion County, Illinois. So in the 1860 census it's Polly's parents and two older brothers living in Marion County. In the 1870 census, the parents are still living in Marion County with the younger brother and his newly married wife. The father of Samuel T. Bruce and James VanCleve Bruce is James Gibson Bruce (1800-1863), a brother of Marquis DeLafayette "Marcus" Bruce (1812-1887) who married Sally Claybourn Brown's youngest daughter Jane Brown (1813-1887), the one born after her father's death as mentioned in James Brown's will.]
Inis was born to them on 14 November 1866, but Polly died when Inis was about three months old. Jim's sister Sally took care of the baby until he married again six months later.
Marriage to Harriett and remaining life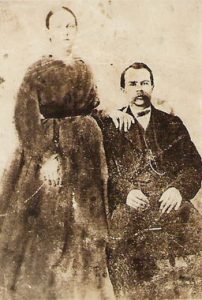 On 18 August 1867, Jim married 22 year old Harriett Ann Maxey. Harriett was born on 27 December 1845 in Jefferson County, Illinois.[On her mother's side she was the granddaughter of Isaac N. Smith who came to Illinois from North Carolina prior to 1806. He laid out the town of Walnut Hill, Illinois, having bought 1800 acres of land. He helped organize Covenenter Church there and is buried in that cemetery. His daughter Rachel married Elihu King Maxey. The Maxey's came from Jefferson County in 1818 and Harriett's grandfather, Henry Burchett Maxey, who had been born in a blockhouse fort near Gallatin, Tenn., in 1795, built a log cabin about one half block off the present square in Mt. Vernon on the west side of N. 10th St. In 1823 he bought the lot on the corner of (now) 10th and Main and built the first building on the public square.] Jim and Harriett were the parents of nine children, seven living to maturity.
The couple first lived at Snow's Mill, four miles west of Dix, Illinois. Jim engaged in saw and grist milling for several years, living in various parts of Jefferson County and for about two years in Franklin County. With his Maxey brother-in-law he bought one of the first portable steam engines in the county. It used wood for fuel and was moved to an area that had wood to saw into lumber. In the summer it was used for the power thresh grain.
Harriett's nephew, Frank Maxey, said that Jim was truly expert at running the sawmill, and that he was the best hand sawyer Frank had ever seen. He could run 15,000 feet of lumber a day if the other workers would get it to him fast enough. He was also known as a fine machinist and carpenter. As Frank expressed it, Jim was "a genius with mechanics." The Maxeys eventually sold out, and Jim then partnered with James V. Bruce (who was a brother-in-law by his first marriage to Polly) at Woodlawn with the mill.
In about 1885 or 1886, Jim and his family moved to Mt. Vernon. There he worked for the Varnell Tie Company, later the Moss Railroad Tie Preserving Company. When the Mt. Vernon Car Manufacturing Co. (which made box cars) came to Mt. Vernon, he worked for them as a lumber inspector and buyer, traveling all over the South and Missouri.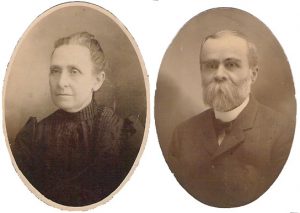 Since this often took him away from home, he gave it up and worked for the Jefferson Milling Company, which used to stand at Broadway and the L&N Railroad in Mt. Vernon. He worked first in the mill and later "traveled" with a horse and buggy to the small towns in Jefferson County selling flour to the country stores. Harriette writes: "My most vivid remembrance of him is those days for he loved to take his children when they came home on visits or his grandchildren with him on these day long trips." This was his occupation until his health began to fail. As he began to fall ill he spent several winters in Florida with his sister Candace, the last one being in 1919.
The Mt. Vernon Register-News described Jim this way: "He was very successful as a business man and was very efficient and industrious. He allowed nothing to interfere with duty and his long term of service is eloquent proof of his worth."[The Mt. Vernon Register-News, 8 April 1920. ]
Jim sawed the lumber for he and Harriet's "board and batten" house at Snow's Mill, and he personally selected the lumber to ensure it contained no knots or bad places. The address for that house, completed in 1890, was South 15th Street in Mt. Vernon. In that house the children were all married and the younger ones went to school there as well. It was razed in 1957 and the lumber was sold off.
[columns][column width="1/6″][/column][column width="2/6″]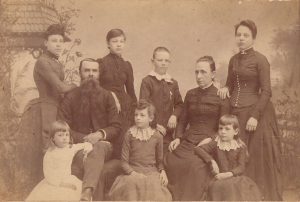 [/column][column width="2/6″]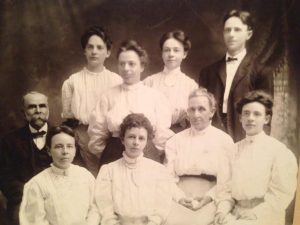 [/column][column width="1/6″][/columns]
The last home Jim owned was a large two story house at 2100 West Broadway, Mt. Vernon, Illinois. There on five acres of land he kept a horse, a cow, chickens, raised a large garden and had fruit trees, including a peach orchard where he raised and sold large peaches. Jim and Harriett's last years were spent on this place with their daughters, Eva and Libbie, and Harriette Threlkeld.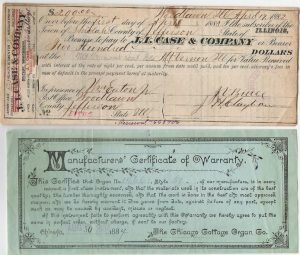 Harriette Threlkeld writes, "Harriett Maxey Claybourn was a high minded woman who would never allow her children to use slang or vulgar words and who was a wonderful example to them of right living. She had fair skin, gray eyes and light brown hair. Her sister-in-law, Mary Williams Claybourn, said of her that 'she never saw her without a broom or a wash cloth in her hand'." Ms. Threlkeld adds, "I wonder how many of us today could cook on a coal or wood burning stove, holding a baby in one arm and bake pies for the day for a large family while making biscuits and getting breakfast."
She goes on, "Grandfather was a small, alert, quick moving man with a white Van Dyke beard but very little hair on his head as I remember him. He was a Methodist and led the choir or the Sunday School singing at various places they lived. He was a member of the I.O.O.F. (Independent Order of Odd Fellows) and held all of the offices of that lodge at Dix, Illinois. He bought an organ when they lived in Woodlawn, bringing it home in a wagon from Mt. Vernon one time as a surprise. Later they owned a piano and several of the girls learned to play and they all loved to sing."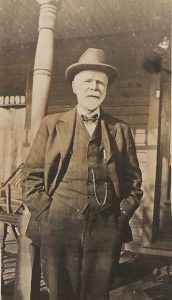 Harriett died on 26 April 1916 in Mt. Vernon, Illinois. Her funeral services were held at the family residence, with the burial not far away at the Oakwood Cemetery. Her obituary ends with these words:
"Faithful in her service to her church and devoted in her efforts towards her family were the outstanding features of her life. Mrs. Claybourn was a woman of rare Christian attainment and with it was a love to do service for her Master.

"Her illness lasted over two weeks, and from the very first her condition was very serious. On last Sunday she lapsed into unconsciousness and from that condition never rallied. Her life's work is over, and she has gone to the home beyond to claim the reward of the faithful."
Jim would last almost four more years before passing away at 10:30 a.m. on 8 April 1920, in Mt. Vernon due to "a complication of ailments including heart trouble."[Ibid.] The local paper reflected on his life with these words:
"Mr. Claybourn had been in bad health almost a year and a half and retired from active business life the 24th day of December, 1919 . . . Mr. Claybourn was held in the highest esteem by the citizens of Mt. Vernon and Jefferson county and news of his death has been received with expressions of deepest regret . . . Mr. Claybourn had long been a member of the First Methodist Episcopal Church and was a faithful Christian, an honorable and upright citizen, and his influence was ever on the side of right and justice."[Ibid.]
Dr. W.T. Cline, pastor of the First M.E. church, led the funeral services for both Jim and Harriett. They are buried beside each other in Oakwood Cemetery.
Descendants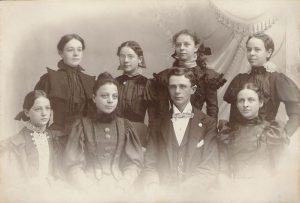 James Harrison Claybourn married (1st) on 21 December 1865 to Polly Ann Yandell (4 March 1848 – 9 February 1867). They had one child:
Ada Viola Inis Claybourn ("Inis") was born on 14 November 1866 at Driver's Mill, which is near Walnut Hill, Illinois. She married (1st) on 12 October 1882 at the age of 15, against her parents' wishes, to Victor Fremont Lacey who was twenty (born on 25 November 1861). They separated after a year and then divorced (Victor died on 29 September 1943 in Marion County). She married (2nd) on 5 June 1886 at the age of nineteen to Charles Amos Tate, aged thirty-four, who was a widower with five children. He died of tuberculosis. Finally, she married (3rd) to Benjamin "Ben" Doolen, who was sixteen years her senior and who had two grown daughters, Hattie and Icie. Ben was a Civil War veteran, serving as a private in Company D of the 111th Illinois Volunteer Infantry Regiment from September 1862 to June 1865. Inis died on 19 March 1901 in Kinmundy, Illinois and is buried in Doolen Cemetery in Marion County, Illinois. Ben died in 1926 at the age of 83, outliving Inis by 25 years. Inis died having never borne any children.
James H. Claybourn married (2nd) on 18 August 1867 to Harriett Ann Maxey. They had the following children: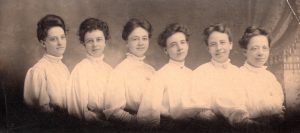 Minni Claybourn was born on 1 July 1868 but died months later on 26 September 1868.
Eva Maud Claybourn was born on 19 June 1869 at Snow's Mill, west of Dix, Illinois. She married on 23 October 1902 to Wilbur William Ayers (born on 14 December 1856) of Mt. Vernon, Illinois. Wilbur was Chief Engineer of Mt. Vernon City Water Filtering Plant. They lived in a house furnished by the plant near Mt. Vernon reservoir. They had two children, listed below. She was apprenticed to a milliner and learned the trade. She had a millinery shop in Mt. Vernon before she was married and in which all the sisters worked at one time or another. The first shop was where the First National Bank later stood. Later it was in a building by Stump's Confectionery just off the square on W. Broadway.

While still married to Eva, Wilbur was the father of a daughter, Anna Margueritte Ayers, who was born on 29 October 1908.[Anna Ayers married Melvin T. Farthing (1903-1986) in about 1936 and died on 23 September 2004 in Mt. Vernon, Illinois. They are buried in Oakwood Cemetery.] Eva and Wilbur divorced in 1911 and Wilbur married the child's mother, Allenia Randolph (1887-1960), who had been a maid to Eva and Wilbur. After her unhappy marriage, Eva returned home to keep house for her parents and helped rear Harriette Threlkeld, her niece. After the death of both parents, she, her sister Libbie, and her niece Harriette lived together until her death. She was interested in church work and held offices in the missionary societies. She helped organize the Mt. Vernon Mother's Club, was a member of the G.A.R. Ladies Auxiliary, the Eastern Star, and White Shrine. She was a wonderful cook and was devoted to her family. Eva died on 18 June 1931 and is buried at Oakwood Cemetery in Mount Vernon, Illinois.

James Wilbur Ayers was born on 15 January 1904 and died on 22 May 1904. He is buried on Ayers Lot in Oakwood Cemetery.
Edwin Hall Ayers was born on 15 November 1905 and died on 26 January 1906. He is buried on Ayers Lot in Oakwood Cemetery.

Alma Blanche Claybourn (click name for separate biographical sketch)
Norah Elsie Claybourn (click name for separate biographical sketch)
Orley Frank Claybourn (click name for separate biographical sketch)
Birtie May Claybourn (click name for separate biographical sketch)
Libbie Frances Claybourn (click name for separate biographical sketch)
Lena Grace Claybourn (click name for separate biographical sketch)
Addie Claybourn was born on 21 March 1886 and died shortly after on 9 June 1886.
---
References and Notes